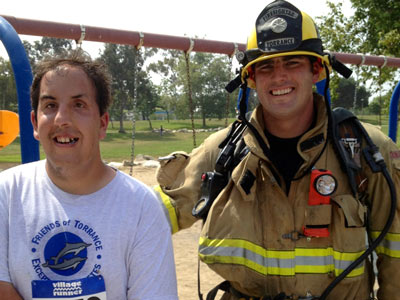 FTEA 2013 Walkathon Photo
Donation Information
FTEA is a not-for-profit 501(c)3 organization and all donations and
in-kind gifts are tax deductible as allowed by law.
Our Federal Tax ID is 27-3571306
With the generous help of donors, like you, donations will go toward athlete's uniforms, equipment, practice locations and tournaments. Your support is very much appreciated by the athletes and their families.
Make Donations via Paypal
Now you may make donations to Friends of Torrance Exceptional Athletes Inc., via PayPal.
It is easy and fast to make a donation via the donate button below.
If you have a Paypal account you may make a donation using your Paypal account, however a Paypal account is not required. You may use any major credit card to make your donation using the secure Paypal link below.
If you prefer to donate with a check we also have an
online donation form in PDF format. Please print this form and mail your donation to the address below. – Note the mailing address is also on the form.
Please make your donation by check, made payable to FTEA. Our mailing address is:
FTEA
P.O. Box 3223
Torrance, CA 90510