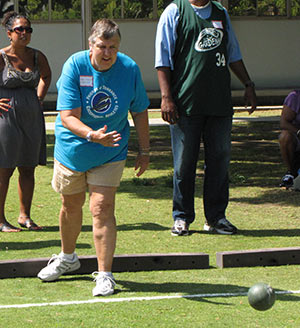 Torrance Special Needs Bocce Ball
Over the years the game of Bocce has become a popular one. Similar in ways to lawn bowling, it is an easy game to learn, yet does involve strategy such as in the game of pool.
We at Special Needs Sports play the game outdoors; however it can also be played indoors. The game consist of 4 players to a team; 2 teams to a court. The court measures 12 feet x 60 feet. The object is to get your teams balls closest to the "pallino" a small ball which is visibly distinct from the bocce balls.
As many of our adult athletes age, they are no longer able to participate in strenuous contact sports, such as soccer or basketball. Bocce has provided them an opportunity to remain active, stay healthy, form lasting bonds of friendship, while also enjoying fun competition and building self esteem. The game can be played by anyone; regardless of their disability, including wheelchair bound and the blind . Currently there are over 50 athletes participating in our bocce program.
The season usually runs from February through August. Practices are held on Saturday afternoons in the winter/spring months and changes to Friday nights in the summer.
For more information, contact coaches Karen Geyer (310) 530-3945 or Linda Barker (310) 612-2057.