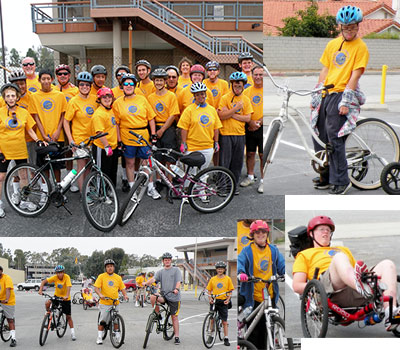 Torrance Special Needs Cycling
Torrance Special Needs cycling team is made up of enthusiastic riders who love the camaraderie of riding as a group. Many of our athletes use their bikes as a means of transportation, so we stress safety, the correct way to handle a bicycle as well as good riding etiquette.
One of our favorite rides is around the Madrona Marsh. Look for us in our bright yellow shirts! We do practice racing skills and compete in at least one race a year. Our athletes particularly like to race against a San Diego team. They actually race on an outdoor velodrome. Lots of fun!!
Our athletes range in age from teenage to 62 and have various levels of skill. Several of our athletes use tricycles and one athlete uses a recumbant bicycle. We usually ride from May to October. We meet Saturday mornings in the SCROC parking lot located on Crenshaw just north of Sepulveda Blvd, on the right hand side just before the Honda Service Center.
For further information and practice times and to join our team call:
Barbara – 310 347-8640
Lee – 310 613-7408