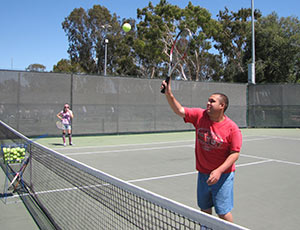 Torrance Special Needs Sports Tennis
Torrance Special Needs Sports Tennis program is always growing. We have players from age 13 – 60+. There is instruction for all levels. We have the beginners that start out working on the basic skill including games that help improve hand eye coordination, to the more advanced level that learn to play the game and learn how to work together as a team as in the game of doubles. It is a fantastic work out for those high energy athletes.
We play on Sunday afternoons at Wilson Park from June to September. The athletes do look forward to a couple of tournament each season and a Tennis Family Fun Day that we help put on with our Tennis friends from Gardena Special Needs Sports Programs.
As our group continues to grow we do count a lot on volunteers for a number of jobs, from the constant picking up of balls to helping throw balls to some of our lower level players. There is always a need.
For further information on how to join us as an athlete or a helper call: Linda – 310-612-2057